Welcome back to the latest issue of The Boating Guide.  I've had some of my readers write in and say, "what if we don't live on the water; where's the best place to put our boat in? Where are the closest waterfront restaurants and watering holes that we can get to by boat?  We don't know the waters that well in Southwest Florida and don't want to run aground".  Well, I would be happy to answer all of these questions.
In Fort Myers, the most centrally located boat ramp is the Punta Rassa Boat Ramp at Sanibel Causeway. It was all redone a few years ago, allows you to put in 4 boats at a time, and there's plenty of parking. Punta Rassa also offers a large fish cleaning station and restrooms. At the end of the day when you're pulling your boat out, it's fun to check out what other fishermen have caught. I've seen Grouper, Snapper, Sheepshead, Redfish, Snook, American Red Snapper, King Fish, Spanish Mackerel, all kinds of fish.  Remember, there's a $10.00 per day parking fee or you can buy an annual resident pass for $60 per year; just go to www.leeparks.org and search "parking sticker" for all the information. The annual pass also gives you access to several other ramps as well as parks in Lee County.
Punta Rassa Boat Ramp is really easy to find; from Hwy 41 go west on Summerlin Rd. towards Sanibel. Right before you get to the toll booths at Sanibel Causeway, stay to your far right, you're going to veer off to the right onto Punta Rassa Rd. and then turn left to the boat ramp, you can't miss it. Sometimes instead of leaving from the house, we trailer our boat to Punta Rassa Boat Ramp and put in there.  That way we can get to the Gulf quickly without going through the slow zones in the Caloosahatchee River.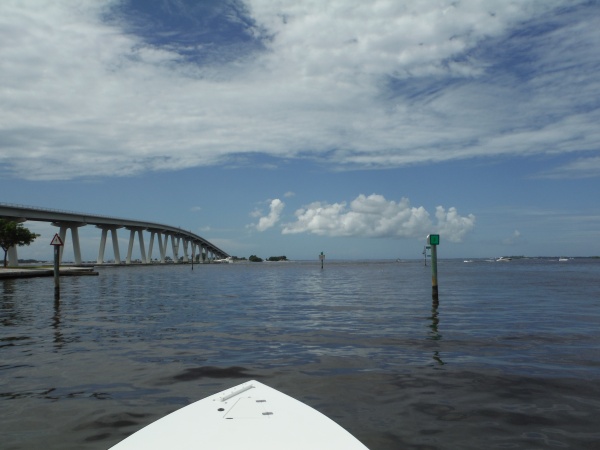 Today we're going to head to Ft. Myers Beach on Estero Island. It's a short ride from Punta Rassa and there are plenty of bars, restaurants, marinas, fuel, etc., plus, the beach!  You can see Ft. Myers Beach as you go under the Sanibel Causeway Bridge heading South. The channel here is very well marked and you have plenty of water.  As you come from the Sanibel Causeway Bridge heading south, be sure to stay on the right side of the markers because on the other side, there's a large sand bar.  Follow the markers to Ft. Myers Beach and once you get to the north end of the beach you'll see more markers very clearly marking the channel going around and behind Estero Island. Once you're at this point you'll see San Carlos Bay behind and to your left; ahead and to the right there's a public park at the northern tip of Ft. Myers Beach called Bowditch Point Park – a great place to anchor up, hang out and relax.  There are public restrooms, grilling areas, picnic tables, metered parking, and a little snack bar. The park underwent a beach restoration project several years ago substantially increasing the size of the beach and enhancing sea turtle habitat.
As you head south on the back side of the Island, you'll come past a great big beige building to the right, this is the Pink Shell Resort. What a great place to stay, it's right on the beach, has a great pool area, plus restaurants and bar right there on the Gulf.  There's also a newer restaurant at the Pink Shell Resort on the Bay side; I haven't eaten there yet, so let me know how it is?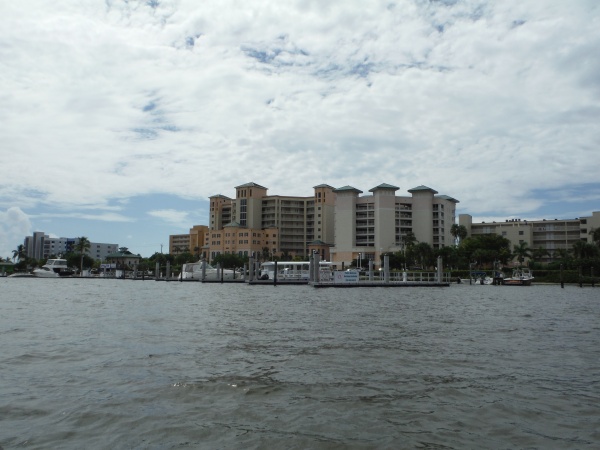 As you continue south towards the big Sky Bridge that connects Ft. Myers Beach to San Carlos Island and the mainland, you'll see some really neat cottages along with huge "McMansions"…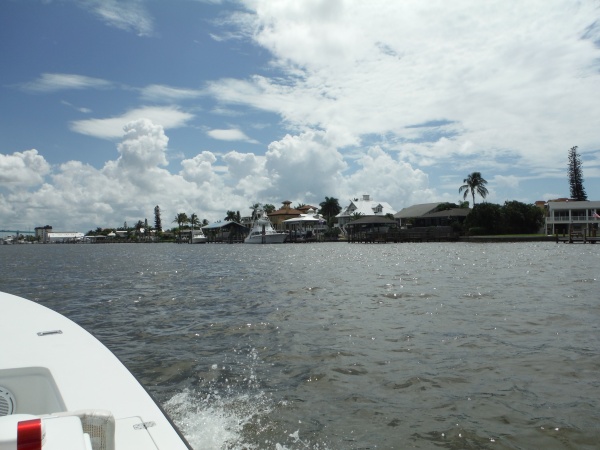 There are also several marinas where you can stop and get fuel or even keep your boat there.  There's Moss Marina on the Ft. Myers Beach side and across the Bay there's a new facility for larger boats and yachts, Diversified Yacht Services. Right next door is the United States Coast Guard…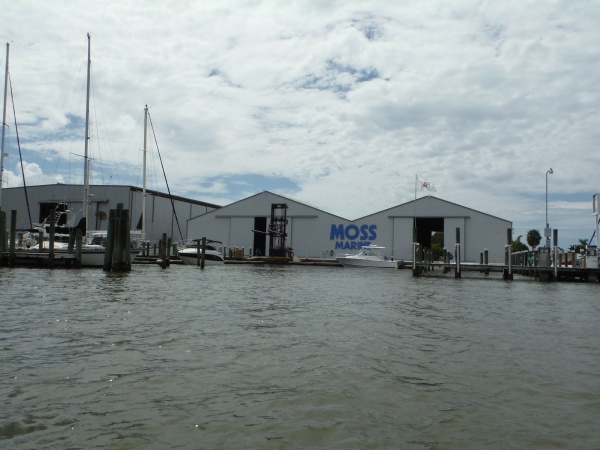 At the foot of the Sky Bridge to Ft. Myers Beach you'll see a multi-colored building on the right called Nervous Nellie's. The food is great and soooo much to choose from on the menu. At the very top there's a bar called Ugly's which has indoor and outdoor dining offering great views of the Bay… See the link below. http://nervousnellies.net/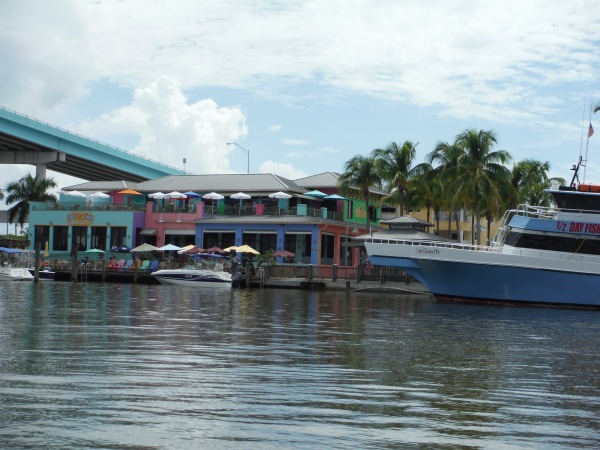 Once you go under the bridge look to your immediate right. There's another restaurant called Matanzas On The Bay. The food here is equally great with indoor dining and a large deck for waterfront dining! Matanzas also has an upstairs bar and dining called The Upper Deck.  This is another great spot to enjoy the Bay views or to catch a football game. Just next door is the Matanzas Inn with cute updated rooms and dock space for your boat. Check out the link below.. http://matanzas.com/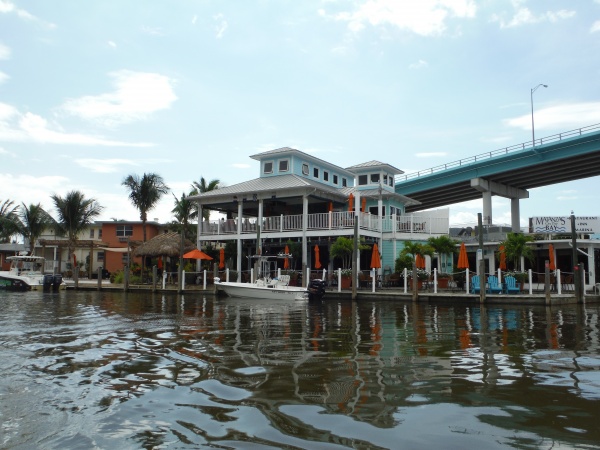 We had planned on visiting several other eating and drinking establishments on Ft. Myers Beach today, however, as you saw in the above photos, there was a very bad squall heading our way. I had been watching it build and build as we were eating lunch at The Upper Deck. As it drew closer and closer we could hear the thunder and see the lightning off in the distance – It was time to go! I must warn you, if the storm is too close, please stay put and wait for it to pass. Please keep in mind, I've been on the water my entire life and If I thought for one moment that we would be in danger, I would have stayed put. I told Anne, "it's time to go right now"! It also helps that we were in the Lake and Bay flats boat which runs just over 80 MPH. We said good bye to our friends, hopped in the boat and took off. We were back to the ramp in no time at all. As soon as we had the boat pulled out and were on Summerlin Rd. the sky opened up!!!  Wow!!!  What a storm.. of course as most afternoon storms in Florida, they come quickly and pass quickly while cooling everything down – at least for a little while.
Stay tuned for next week and we'll finish our tour of the back side of Estero Island (Fort Myers Beach).
On a serious note: I want to thank the United States Coast Guard, Lee County Sherriff's Department, the Sanibel Police Department and any other law enforcement that helped rescue our friends last weekend. Thank  goodness for their quick response time… We have some friends who were fishing off Sanibel last weekend with 7 people on board – 4 children and 3 adults. No one knows why yet, but their boat sank. It was a 30 foot plus boat; the bow was the only part of it left floating up and out of the water. Thank goodness everyone kept their heads on straight. The kids were wearing life jackets and the adults put theirs on as the boat was sinking. They were able to call and give their coordinates to the authorities. Thanks to the quick thinking of the crew and everyone remaining calm, everyone is okay. Beyond scary to say the least.  Years ago, I used to get irritated when I would randomly get pulled over for a safety check on my boat. Checking life jackets, flares, other safety equipment, etc. I now welcome it, because I have had other similar situations, in which my buddies and I have rescued people from sunken boats. Having the proper safety gear on your boat in an emergency can save lives. Just think, if our friends had not been prepared, it could have turned out very bad. I don't feel comfortable posting the youtube video of the rescue, however, If you choose to pull it up, go right ahead. Google "capsized boat off Fort Myers Beach". Once again, I commend the captain, the crew and law enforcement who did an amazing job on their rescue.
Until next week. Make time for your Family and Friends, life is so short.
Make it a great weekend..